a whole lot of robot pics-
face has zipper mouth, snap eyes, and hook and eye "eye" nose-
button shoulder-
this is what I was cutting all those circles for- elbow-
this is the whole arm. The "hand" is a hook from a girdle. I am beginning to appreciate all the odd stuff my mom had tucked away in her sewing room. None of which I could bring myself to throw away, of course!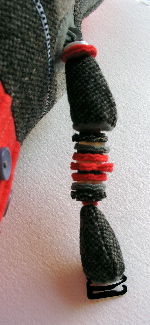 aren't they a cute couple?
In case you haven't guessed, this robot was inspired by the Daleks on Dr. Who.
Another Picture here on Flickr.